Replacement ICS Chains for ICS
660GC
Concrete Chainsaws
Save Money with a COMBO PACK


BuyTWO
Chains for your 660GC
get the 660GC Guide Bar FREE
Includes 2 Chains and a FREE Guide Bar
10 Inch TwinMAX Series Diamond Chains
All ICS Diamond Chains, Guide Bars, Combo Packs, and Saw Packages include free ground freight.
Combo Pack
:
Buy 2 Chains
& Get the Guide Bar
FREE
25 Segment Chains
are referred to as
10" Diamond Chains
when used with a
660GC
Guide Bar P/N 517689 because they provide a
10" cutting depth.
Guide Bar P/N 517689 - Referred to as a "10 Inch Guide Bar"
Overall Length:
14.8 Inches
(37.6cm)
TwinMax Series Chains for

ICS 660GC Gas Saws
Diamond segments are laser welded to
every other chain link
on TwinMAX Chains.
TwinMAX series chains are named for their "Double Bumper" design. The metal triangles between each diamond segment act as bumpers and minimize any snagging that may occur when the diamond segments contact cutting materials. This makes these chains "user-friendly" by making it impossible to put the chain on backwards.
SealPro™ technology, incorporated into every ICS Diamond Chain,
is a patented chain chassis design that seals out the abrasive contaminants present in concrete cutting environments. A unique o-ring design seals the rivets and joints of the chain, keeping the abrasive materials out and the lubrication in. Abrasion inside the chain chassis is the primary cause of chain wear and stretch.
| | | | | |
| --- | --- | --- | --- | --- |
| Chain Type | Soft Stone and Abrasive Brick | Natural Stone | Medium Concrete with Light Rebar | Hard Concrete with Heavy Reinforcement |
| SealPRO | | Yes | Rebar impacts life of SealPRO chains | |
| TwinMAX | | Yes | Best | |
| TwinMAX Plus | | Yes | Yes | Best |
| TwinMAX Abrasive | Best | | | |
TwinMAX Series Chain Definitions:
TwinMAX

- A general purpose chain designed for everyday use. Used in 90% of cutting gobs. This chain is designed to be affordable and user freindly.

TwinMAX Plus

- Built to tackle harder materials and more steel, is the best chain for Hard Reinforced Concrete and other hard materials.

TwinMAX Abrasive

- A special diamond concentration and

harder bond

make this diamond chain perfect for cutting through highly abrasive aggregate like brick and sandstone. Note: Harder bonds like those in Abrasive chains do not expose diamonds quickly enough to be efficient in concrete or other hard materials.
ICS Chain tensioning video:
With both companies located in Portland Oregon, CESSCO Inc. has been a vital partner with ICS in developing and expanding the market for Concrete Chainsaws. Work with the experts at CESSCO Inc. to get the most from your investment.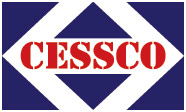 Call us at 1-800-882-4959
Please ask for Internet Sales