Replacement
Diamond Chains
for ICS
680ES
Chainsaws
Concrete Cutting

Cut deeper than other methods.


Cut square corners
with NO Overcut

Ductile Iron

PowerGRIT lets you cut ductile iron pipes safer, faster, & easier. Cutting from one side means Less excavation & faster results

TwinMAX

PowerGrit

12 Inch Chains
for 680ES-GC Saws


▼ for General Contractors ▼

TwinMAX-29

P/N 71400

General Purpose Chain
for lightly reinforced residential and commercial buildings.

TwinMAX-29 Plus

P/N 71704

Harder Reinforced Concrete
for harder materials and more steel. Plus chains are longer lasting general purpose chains

TwinMAX-29 Abrasive

P/N 71554

Soft Abrasive Materials
A special diamond concentration and harder bond make this diamond chain perfect for cutting through highly abrasive aggregate like brick & sandstone

▲ 12 Inch Chains ▲
Guide Bar P/N 71395
on ICS 680ES-GC saws

Overall Length: 17.5"

P/N 71395 :

$139.95

14 Inch Chains
for 680ES-GC Saws


▼ for General Contractors ▼

TwinMAX-32

P/N 71486

General Purpose Chain
for lightly reinforced residential and commercial buildings.

TwinMAX-32 Plus

P/N 71705

Harder Reinforced Concrete
for harder materials and more steel. Plus chains are longer lasting general purpose chains

TwinMAX-32 Abrasive

P/N 71610

Soft Abrasive Materials
A special diamond concentration and harder bond make this diamond chain perfect for cutting through highly abrasive aggregate like brick & sandstone

▲ 14 Inch Chains ▲
Guide Bar P/N 513122 on ICS 680ES-GC saws

Overall Length: 19.7"

P/N 513122 :

$169.95

10 Inch Chains
for 680ES-PG Saws


▼ for Utility-Workers ▼

PowerGrit-24

P/N 580424

Ductile Iron Cutting Chain
Designed to cut ductile iron, plastic pipe, & more.

680ES PowerGrit-24 Conversion kit

P/N 582125

Includes:
(1) PowerGrit-24 Ductile Iron
Cutting Chain
(1) Guide Bar
(1) Sprocket

▲ 10 Inch Chains ▲
Guide Bar P/N 579158 on ICS 680ES-PG saws

Overall Length: 17.25"

P/N 579158 :

$139.95
Introducing CESSCO Color Coding for ICS Products. Whether you're a General Contractor, a Pro-Cutter, or a Utility Worker cutting ductile iron pipe, CESSCO Inc is here to help you find the right product for your job!

GC Series

Economical Concrete Cutting Systems with segments designed for general or specialty use.

F4 is FORCE4

Concrete Cutting for Heavy Professional Users. These Chains are the most durable chains available

PG PowerGrit

Utility Chain for
Ductile Iron Pipe Cutting
Safer - Faster - Easier
Perfect for Utility Work
SealPro™ technology, incorporated into every ICS Diamond Chain
, is a patented chain chassis design that seals out the abrasive contaminants present in concrete cutting environments. A unique o-ring design seals the rivets and joints of the chain, keeping the abrasive materials out and the lubrication in. Abrasion inside the chain chassis is the primary cause of chain wear and stretch.
Chain Definitions for 680ES Chainsaws:
PowerGrit

- Utilized by public and private water and wastewater departements worldwide, this patented chain (EXCLUSIVELY FROM ICS) is designed to cut a variety of materials - From Ductile Iron to Plastic Pipe.

TwinMAX

- A general purpose chain designed for everyday use. Used in 90% of cutting gobs. This chain is designed to be affordable and user freindly.

TwinMAX Plus

- Built to tackle harder materials and more steel, is the best chain for Hard Reinforced Concrete and other hard materials.

TwinMAX Abrasive

- A special diamond concentration and harder bond make this diamond chain perfect for cutting through highly abrasive aggregate like brick and sandstone. Note: Harder bonds like those in Abrasive chains do not expose diamonds quickly enough to be efficient in concrete or other hard materials.
Saw Model

680ES-GC chains can be used on 680ES-PG saws by switching the sprocket & bar

Drive Sprocket

Guide Bar

Diamond
Chains

Equipped with sprocket 70949 the power head is referred to as a 680ES-GC.

Recommended for General Contractors. Primary Benefit: Economical chains.


680ES-GC
Economical
Gen. Purpose
Diamond Chains
see above

Not Available on 680ES Series saws

Equipped with a 525496 sprocket the powerhead is referred to as a 680ES-PG

Recommended for Utility Work: Primary Benefit - Faster, Easier, and Safer cutting of Ductile Iron Pipes in ground.

680ES-PG
PowerGRIT
Ductile Iron
Diamond Chains
see above
Chains Tensioning Instructions for ICS 680ES Saws
With both companies located in Portland Oregon, CESSCO Inc. has been a vital partner with ICS in developing and expanding the market for Concrete Chainsaws. Work with the experts at CESSCO Inc. to get the most from your investment.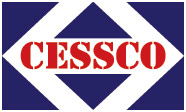 Call us at 1-800-882-4959
Please ask for Internet Sales