Only ONE Left - Demo Model
New Unit - will ship in generic box
Call to purchase 1-800-882-4959
Value priced with two chains. Please call for pricing with one chain
Get a FREE 2nd Chain
With any 680GC Concrete Chainsaw
Includes Free Ground Freight
All ICS 680GC Chainsaw Packages from CESSCO include:
(1) 680GC Power Head, (1) Guide Bar, and
(2) TwinMAX Diamond Chains
680GC-12 Saw Package
Cut up to 12" deep with ICS Part# 545058
$1,370.00
Includes: a Second
TwinMAX-29
Chain
FREE
Valued at:
$329.95
680GC-14 Saw Package
Cut up to 14" deep with
ICS Part# 545099
$1,450.00
Includes: a SecondTwinMAX-32
Chain
FREE
Valued at:
$359.95
680GC Power Head
P/N 545090
Cut up to 14" Deep with 14" Guide Bar and Chain

Guide Bars & Diamond Chains sold separately
680GC Power Head
ICS 680GC Features & Benefits
This inexpensive 2-Cycle Gasoline Saw is a great
entry-level saw for the occasional concrete cutter.
Built to meet the operational and flexibility demands of the general construction audience, the 680GC stands alone in terms of reliability and value. Packed with innovations and loaded with dependability, the 680GC is the perfect saw for the less frequent user. The distinctive black powerhead houses redesigned carburetion and ignition systems that work together to ensure easy
starting, cooler operation, and dependable performance at just about any elevation. Improved airflow design keeps the engine much cooler, extending its life. Available with 12" (30 cm) and 14" (35 cm) guidebars and the entire line of TwinMAX™ diamond chain.
• Use on concrete, stone and masonry
• Square corners
• Narrow deep cutting up to 14 in.
• Small openings
• 80 cc gas powered engine
• Safe, no gyroscopic rotation
• Deeper Cuts than other methods
• No Kickback
• Wet-Cut reduces dust
• Versatile and easy to use
• Time Savings vs Cut-Off Saws
ICS Gas Powered
Concrete Chain Saw Packages:


COMPARISON TABLE

680GC-12

$1,370.00

680GC-14

$1,450.00

As sold with:
12" bar & chain
14" bar & chain
Replacement
Chain & Price
Replacement
Guide Bar & Price
Combo Pack Pricing
Buy 2 Chains get the guide bar FREE!

TwinMax-29
Combo Pack


$659.90

TwinMax-32
Combo Pack


$719.90

Cutting depth (as sold):
12 Inches
14 Inches
680GC PRODUCT SPECIFICATIONS
WEIGHT
21 lbs (9.5 kg) with bar and chain
BAR LENGTH
Up to 14 in (35 cm) -
ENGINE SPEED
11500 +/- 500 rpm, 2800-3200 rpm idle
HORSEPOWER
5 hp (3.7 kW) @ 9500 rpm
ENGINE TYPE
2-stroke, single cylinder, air cooled
DISPLACEMENT
4.7 cu. inch (76.5 cc)
CHAIN SPEED
5300 fpm (27 m/s), free running
POWERHEAD DIMENSIONS
18 inches (45 cm) Length
11.5 inches (29 cm) Height
10 inches (25 cm) Width
NOISE LEVEL
100 dBA @ 3 ft (1 m)
VIBRATION LEVEL
10.5 meters/second2 (front handle)
WATER SUPPLY
Minimum 20 psi (1.5 bar)
FUEL MIX RATIO
25:1 (4%) fuel-to-oil
FUEL CAPACITY
0.23 gal (.88 liter), 15-18 minutes
run time per tank
With both companies located in Portland Oregon, CESSCO Inc. has been a vital partner with ICS in developing and expanding the market for Concrete Chainsaws. Work with the experts at CESSCO Inc. to get the most from your investment.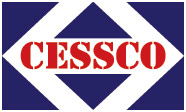 Call us at 1-800-882-4959
Please ask for Internet Sales