Get a FREE 2nd Chain
With 680GC Saw Package Purchases
Includes Free Ground Freight
ICS 680GC Chainsaw Package

& FREE 2nd Chain
12" 680GC Model
$1,460.00
Includes: a Second
TwinMAX-29 Chain
FREE
Valued at:
$314.95
Includes FREE
2ND TwinMAX Chain
14" 680GC Model
$1,532.00
Includes: a Second
TwinMAX-32 Chain
FREE
Valued at:
$349.95
Click On These Tabs
► ► ► ► ►
for More Details

Features &
Benefits


Click Here

Replacement
Diamond Chains


Click Here

Replacement
Guide Bars


Click Here

Replacement
Parts


Click Here
Buying from CESSCO makes sense
ICS 680GC Features & Benefits
This inexpensive 2-Cycle Gasoline Saw is a great
entry-level saw for the occasional concrete cutter.
Built to meet the operational and flexibility demands of the general construction audience, the 680GC stands alone in terms of reliability and value. Packed with innovations and loaded with dependability, the 680GC is the perfect saw for the less frequent user. The distinctive black powerhead houses redesigned carburetion and ignition systems that work together to ensure easy starting, cooler operation, and dependable performance at just about any elevation. Improved airflow design keeps the engine much cooler, extending its life. Available with 12" (30 cm) and 14" (35 cm) guidebars and the entire line of TwinMAX™ diamond chain.
FEATURES & BENEFITS
• Use on concrete, stone and masonry
• Square corners
• Narrow deep cutting up to 14 in.
• Small openings
• 80 cc gas powered engine
• Safe, no gyroscopic rotation
• Deeper Cuts than other methods
• No Kickback
• Wet-Cut reduces dust
• Versatile and easy to use
• Time Savings vs Cut-Off Saws
680GC PRODUCT SPECIFICATIONS
WEIGHT
21 lbs (9.5 kg) with bar and chain
BAR LENGTH
Up to 14 in (35 cm) -
ENGINE SPEED
11500 +/- 500 rpm, 2800-3200 rpm idle
HORSEPOWER
5 hp (3.7 kW) @ 9500 rpm
ENGINE TYPE
2-stroke, single cylinder, air cooled
DISPLACEMENT
4.7 cu. inch (76.5 cc)
CHAIN SPEED
5300 fpm (27 m/s), free running
POWERHEAD DIMENSIONS
18 inches (45 cm) Length
11.5 inches (29 cm) Height
10 inches (25 cm) Width
NOISE LEVEL
100 dBA @ 3 ft (1 m)
VIBRATION LEVEL
10.5 meters/second2 (front handle)
WATER SUPPLY
Minimum 20 psi (1.5 bar)
FUEL MIX RATIO
25:1 (4%) fuel-to-oil
FUEL CAPACITY
0.23 gal (.88 liter), 15-18 minutes
run time per tank
ICS 680GC Concrete Chainsaw Replacement Chains
12 Inch ICS Chains for the
680GC Concrete Chainsaw
FREE GROUND Freight

Select from

Single Chain

or

Combo Pack: 2 Chains and a Free Bar

$127.97
14 Inch ICS Chains for the
680GC Concrete Chainsaw
FREE GROUND Freight

Select from

Single Chain

or

Combo Pack: 2 Chains and a Free Bar

$156.96
TwinMAX - A good general purpose chain that will handle 80% of cutting jobs, this
diamond chain is designed to be affordable and user friendly.  FOR MEDIUM HARD
CONCRETE WITH SOME LIGHT REBAR
TwinMAX Plus - Built to tackle harder materials and more steel, TwinMAX Plus is a
long lasting general purpose diamond chain. FOR REINFORCED CONCRETE &
OTHER HARD MATERIALS
TwinMAX Abrasive - A special diamond concentration and harder bond make this
diamond chain perfect for cutting through highly abrasive aggregate like brick and
sandstone - For soft abrasive material (like Cinder Block)
ICS 680GC Concrete Chainsaw Replacement Bars
Guide bars for use with 680GC saws with economical TwinMAX Series diamond chains

680GC
680GC Repair Parts Price List The prices below include free ground freight. Save money by ordering with Diamond Chains or Guide Bars
Part Number

Item Name

Price and Order Button

70949

Rim Sprocket - Gas Saws

73336

Pre Filter

71752

Air Filter

73935

Chain Tensioner

528637

Starter Cover Assembly

505882

6-Pack of 2-Cycle Oil
With both companies located in Portland Oregon, CESSCO Inc. has been a vital partner with ICS in developing and expanding the market for Concrete Chainsaws. Work with the experts at CESSCO Inc. to get the most from your investment.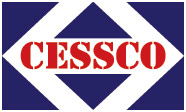 Call us at 1-800-882-4959
Please ask for Internet Sales