Sold Out
The 695F4 has sold out
The upgraded new version is the 695XL-F4
Concrete Cutting

695XL-F4

Pro-Cutter power with economical TwinMAX Diamond Chains.

Cut deeper

than other methods. Cut square corners with

NO Overcut

695XL-F4 12"
Saw Package

P/N 576151

(1) PowerHead, (1) Guide Bar,

(2) ProFORCE-25 Chains

,

Free Ground Freight

*

695XL-F4 16"
Saw Package

P/N 575872

(1) PowerHead, (1) Guide Bar,

(2) ProFORCE-29 Chains

,


Free Ground Freight*

P/N 575826 - Includes Free Ground Freight*
695F4 Concrete Chainsaws
The workhorse gas saw for the more than occassional cutter.

Over 20 years of ICS product innovation and experience culminating in the latest addition to their gas saw family. Everything that makes chain saws the preferable method in cutting concrete, stone, and masonry wrapped in a hungry, power filled package called the
695F4
. All the great features from past ICS chain saws plus a few new innovations to make your day go a little easier. Deep, straight cuts and square corners with ease of use and dependable performance to match. If cutting concrete, stone, masonry or ductile iron pipe is your game changer.
Why the ICS 695F4 and 695GC are your GAME CHANGERs.
Use on concrete, stone and masonry
Square corners
Narrow deep cutting up to 16 in. (40 cm)
Small openings
94 cc gas powered engine
Safe, no gyroscopic rotation

ICS 695 Series Saw Compatibility Breakdown
All 695 Series Saws use the same power head.
Saw Model

The same

695F4

Power Head

is the same as used on every other 695(

Series

) Saw.

Drive Sprocket

Guide Bar

Diamond
Chains

Equipped with sprocket 525496 the power head is referred to as a 695F4.

Recommended for Pro Cutters. Primary Benefit: Professional grade faster cutting and longer lasting chains.

525496

Compatibility with other versions of the 695(Series) Saws.

Also equipped with a 525496 sprocket the powerhead can be referred to as a 695PG but a 695F4 is sold and delivered when purchased with PowerGrit Chains.

Recommended for Utility Work: Primary Benefit - Faster, Easier, and Safer cutting of Ductile Iron Pipes in ground.

525496

Equipped with sprocket 70949 the power head is referred to as a 695GC.

Recommended for General Contractors. Primary Benefit: Economical chains.

70949
Note: By switching drive sprockets all of these guide bars and diamond chains can be compatible with any 695 Series Saw
Switching Drive Sprockets is as easy as removing the retaining ring the retainer and spacer then switching drive sprockets and replacing the spacer, retainer and retaining ring.
695GC PRODUCT SPECIFICATIONS
WEIGHT
21 lbs/9.6 kg (without bar and chain)
BAR LENGTH
Up to 16" (40 cm)
ENGINE SPEED
11500 +/- 500 rpm, 2500-2800 rpm idle
HORSEPOWER
6.4 @ 9000 rpm
ENGINE TYPE
2-stroke, single cylinder, air cooled
DISPLACEMENT
5.7 cu. inch (94cc)
POWERHEAD DIMENSIONS
19"L x 14"H x 12"W
(48 cm x 36 cm x 30 cm)
NOISE LEVEL
102 dB @ 3 ft (1 m)
VIBRATION LEVEL
8 meters/second2 (front handle)
WATER SUPPLY
Minimum 20 psi (1.5 bar)
FUEL MIX RATIO
50:1 (2%) fuel-to-oil
FUEL CAPACITY
0.26 gal (1.0 liter)
With both companies located in Portland Oregon, CESSCO Inc. has been a vital partner with ICS in developing and expanding the market for Concrete Chainsaws. Work with the experts at CESSCO Inc. to get the most from your investment.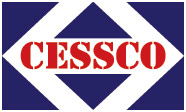 Call us at 1-800-882-4959
Please ask for Internet Sales