November through December 2017 Buy any ICS Saw Package from CESSCO, follow the directions and get up to a $250 Rebate from ICS!

Rebates
on These ICS Models
► ► ►


$100
Rebate

$150
Rebate

$250
Rebate

$200
Rebate

$250
Rebate
Diamond Tools & Equipment

CESSCO has saws for Contractors,
Pro-Cutters, and Utility Workers


All ICS Saw Packages purchased from CESSCO Inc include:
One Power Head, One Guide Bar, TWO Diamond Chains


Cut deeper

than other methods. Cut square corners with

NO Overcut

PowerGRIT lets you cut ductile iron pipes safer, faster, easier. Cutting from one side means Less excavation & faster results
Other ICS Accessores:

Guide Bars


Hydraulic Power

Portable water source

Cutting Accuracy


Slurry Solutions
Introducing CESSCO Color Coding for ICS Products. Whether you're a General Contractor, a Pro-Cutter, or a Utility Worker cutting ductile iron pipe, CESSCO Inc is here to help you find the right product for your job!
GC Series

Economical Concrete Cutting Systems with segments designed for general or specialty use.

F4 is FORCE4

Concrete Cutting for Heavy Professional Users. These Chains are the most durable chains available

PG PowerGrit

Utility Chain for
Ductile Iron Pipe Cutting
Safer - Faster - Easier
Perfect for Utility Work

680ES-GC Saws


▼ Cut to 14" Deep / 5Hp ▼

Saw
Packages
Starting at:


$1,584.00

695XL-GC Saws


▼ Cut to 16" Deep / 6.4Hp ▼

Saw
Packages
Starting at:


$2,272.00
With both companies located in Portland Oregon, CESSCO Inc. has been a vital partner with ICS in developing and expanding the market for Concrete Chainsaws. Work with the experts at CESSCO Inc. to get the most from your investment.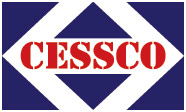 Call us at 1-800-882-4959
Please ask for Internet Sales